| | |
| --- | --- |
| | Navigation |
| | |
| --- | --- |
| | Search |
| | |
| --- | --- |
| | Categories |
| | |
| --- | --- |
| | Competitions |
| | |
| --- | --- |
| | Information |
| | |
| --- | --- |
| | Creativity |
Contests

Winners of CreaSpace: Team Battle 2014

Saturday, 02 August 2014

We publish the results of team contest for clipmakers used non-anime sources from site CreaSpace.ru. The winner of the contest, according to the rules, was the team scored the most points.

1 place: Lights (Malya, ЛеоNardo, Cloud) - 47 points
2 place: Spectral Analysis (SandY, Sham, worrytra1n) - 45 points
3 place: Resolvent (Benjamin, Leberate) - 44 points
4 place: Invasion (Samuel, UFец) - 41 points
5 place: Cats in Cakes (Vek, B@rs, t0m1k) - 36 points
6 place: Valiant (Apologet, Hellsing, MIBIHA) - 31 points
7 place: Bad Company (Yaguar, _Doc_, Limon94) - 27 points
More...

→
---
Клип принимал участие в Japan Expo 2014 и занял 13 место.

Author's comment: Salut à tous, voici mon petit clip pour la JE 2014. Finalement classé 13ème, je suis plutôt satisfait du résultat final. J'ai vraiment pas grands chose à dire sur le clip, j'ai conscience que celui-ci est vraiment pas dingue mais il s'agit du clip sur lequel j'ai le plus travaillé pour le moment après le lvl up. C'est un clip Madoka à thème classique sur lequel j'ai eus l'idée de faire un raccord avec les derniers films sortit pour me distinguer un peu sur l'histoire. Je remercie la Eden team pour m'avoir soutenue lors de ce projet et particulièrement Raitei et Sly pour les beta-test!
J'èspère en faire davantage pour la suite! Voila.

Information
Author: [Bigalaxy]
Anime: Puella Magi Madoka Magica
Music: Elena Siegman - Abracadavre
---
Contests

Contest AMVNews: Free Zone 2014 (Demonstration)

Friday, 01 August 2014
Date
Author
Video title
Video page
13.10.2014
SWS
Oh, Yes! Dakimakura Online
Link
12.10.2014
Pusenok
Petrichor
Link
11.10.2014
seriy
The Eyelashes
Link
10.10.2014
Hellsing
Destroyer
Link
09.10.2014
Roman_cat_Marcus
Space story
Link
08.10.2014
aska_langly
The Starseekers
Link
Show full table
| | | | |
| --- | --- | --- | --- |
| Date | Author | Video title | Video page |
| 07.10.2014 | Fenix174, CapsLock | Ties | Link |
| 06.10.2014 | Uniquevil | Overtaken | Link |
| 05.10.2014 | Hungry Bobo | Massacre | Link |
| 04.10.2014 | Slashhh | To protect is to never betray | Link |
| 03.10.2014 | AweDeus | Exodus | Link |
| 02.10.2014 | Artofeel | Oneness | Link |
| 01.10.2014 | SWS | Laki Girl Li - Друзья | Link |
| 30.09.2014 | Darksss 73 | NINJA - ZONE | Link |
| 29.09.2014 | EllipseIris | No Scrubs | Link |
| 28.09.2014 | Uniquevil | Remarkable you | Link |
| 27.09.2014 | Anejo | Descending | Link |
| 26.09.2014 | AiLioNS | Digital Electric Emotion | Link |
| 25.09.2014 | Genetix | Devil's Vessels | Link |
| 24.09.2014 | Ryzhaya Lalka | Сказки Чёрной Лагуны | Link |
| 23.09.2014 | Centurione | Resonance | Link |
| 21.09.2014 | DiGrell | Creator Of The World | Link |
| 20.09.2014 | Minako | The Inner Light | Link |
| 19.09.2014 | MinaKai | Wind Of Change | Link |
| 18.09.2014 | Crookz | Servitori | Link |
| 17.09.2014 | Ardamaeus | Waking Summer Dream | Link |
| 16.09.2014 | MsHazzerd | ENGINE II - TEH CHLLNG | Link |
| 15.09.2014 | AiLioNS | Adiós | Link |
| 14.09.2014 | Upzet | Haemorrhage | Link |
| 13.09.2014 | Captain Tryout | Guilty or not | Link |
| 12.09.2014 | Not found | Anthem of Remembrance | Link |
| 11.09.2014 | SteRD | Never know best | Link |
| 10.09.2014 | Qianxiazhixi | Yuki and Kyon | Link |
| 09.09.2014 | MilaMoon | Hurt | Link |
| 08.09.2014 | JonesSeries | Time | Link |
| 07.09.2014 | stalkill | Ebullient Future | Link |
| 06.09.2014 | Fobos | Violated | Link |
| 05.09.2014 | TheLotosik | How to kill a zombie? | Link |
| 04.09.2014 | Kami, Tuli' | Childhood Love | Link |
| 03.09.2014 | nixanol | derealization | Link |
| 02.09.2014 | Darksss 73 | Trailer - Ring | Link |
| 01.09.2014 | BerlitzxXx | Up in Flame | Link |
| 30.08.2014 | Hanna | Ma cherie la poupée | Link |
| 29.08.2014 | Mr.Frost3281 | Champion Road | Link |
| 28.08.2014 | hohmTM | Bloodlust | Link |
| 27.08.2014 | lonely_SOUL | Greed | Link |
| 26.08.2014 | Symmetry | Forgotten | Link |
| 25.08.2014 | nezdewnij | No Salvation | Link |
| 24.08.2014 | Frame | The Last Battlefield | Link |
| 23.08.2014 | Scofield | Out Of Reach | Link |
| 22.08.2014 | S H E E N | The Living Dead: Just Begun | Link |
| 21.08.2014 | -Kisagi- | Battle of Wishes | Link |
| 19.08.2014 | Ryuu-Dono | I Am My Own MASTER Now! | Link |
| 18.08.2014 | Shinzo | Blazing | Link |
| 17.08.2014 | Theory | Firefly | Link |
| 16.08.2014 | DarknessTheWarrior | Thank You For The Memories | Link |
| 14.08.2014 | xDeuz | Lovers Out | Link |
| 13.08.2014 | Dm1try[A] | Тонкая грань | Link |
| 12.08.2014 | Deviant | Сепулька | Link |
| 10.08.2014 | Disengager | Pushover | Link |
| 09.08.2014 | Glena | Воля к победе | Link |
| 07.08.2014 | SachaValentine | Я U Mine | Link |
| 06.08.2014 | Fobos | I Will Never Break | Link |
| 05.08.2014 | Enigmo | Creepy Crawl | Link |
| 04.08.2014 | Zoronik | Summer of 2071 | Link |
| 03.08.2014 | I`mGoing | Neosphere | Link |
| 02.08.2014 | JazzsVids | Vacant Heart | Link |
| 01.08.2014 | ThalesEditions | Grapevines | Link |
---
New videos

Downfall Absolution

Wednesday, 30 July 2014
Contest video of AKROSS Con 2013
/人 ◕‿‿◕ 人
-----------------
Качественная работа по исходнику Fate/Zero от автора diegao94. Приятного просмотра.

Information
Author: diegao94
Anime: Fate/Zero
Music: Red - Glass House
More

→
---
I've started this 6 months ago... it took like total of 18 hours +24 for rendering and encoding ... BUT It's finally here! So I hope you enjoy it. It was obviously inspired by Shades of by Leberate, dude if you're watching this... just to let you know you fucking rock!

Information
Author: [Genetix]
Anime: Mix
Music: Ellie Goulding - Starry Eyed (SubVibe Bootleg Remix)
More

→
---
AMV news

Миниатюры для Ru.Comix 3.5

Sunday, 27 July 2014
Тем временем мы уже почти готовы зарелизить Ru.Comix 3.5, который выйдет ближе к концу 2014 года. Весь материал, включая переходы, опенинг и титры у нас уже есть. Если у вас есть готовые наработки, и вы не хотите ждать 4 часть, то у вас есть шанс отправить свою комедийную миниатюру, и она войдет в готовящуюся сборку. Ну, и в отличие от номерных частей, вероятность включения в промежуточный Ru.Comix 3.5 намного выше. Дерзайте: «Добавить миниатюру».
More...

→
---
New videos

The Disappearance Of Skepticism

Sunday, 27 July 2014
Hello people of this vast and little terrestrial globe. Not much to talk about, I'm just doing this so I can meet the minimum requirements of 200 characters required. I hope you the mind and preferably not just read what's below.

"What eyes see, is the true reality?" - SaadKeanu - 07/13/2014 - 05:52:32;14 - 21st century - In my house.

Information
Author: SaadKeanu
Anime: Suzumiya Haruhi no Shoushitsu, Spice and Wolf, Steins;Gates: Fuka Ryõiki no Déjà Vu, Nekomonogatari, Bakemonogatari
Music: Nickelback - Savin' Me
More

→
---
Hello everybody, here I am bringing my newest AMV for the contest AMVcon 2014! The AMV tells about a virus that ends up being broadcast to the world, people get the disease and could have become zombies, well I tried to explain the best way possible, watch the AMV to better understand, thank you and sorry for the bad English.

Information
Author: Kurosakibruno
Anime: Berserk The Golden Age Arc III, Fate Stay Night, Fullmetal Alchemist Brotherhood, Highschool Of The Dead, Hoshi wo Ou Kodomo, Le Portrait de Petit Cossette, Psycho-Pass, Shiki, Sora wo Miageru Shoujo no Hitomi ni Utsuru Sekai, The Animatrix, Tokyo Magnitude 8.0, ZombiU Trailer
Music: Les Friction - Louder Than Words, Les Friction - World On Fire
Awards: 2nd place at AMVCon 2014
More

→
---
New videos

Inhumans: The Awakening

Friday, 25 July 2014
Клип принимал участие в Japan Expo 2014 и занял 6 место.

Кроссовер-экшн, а заодно и небольшая история, которую автор, судя по титрам, планирует продолжить в дальнейших работах.

Information
Author: Hayden
Anime: Devil May Cry, Bayonetta: Bloody Fate, Supernatural
Music: Paul Udarov & Voicians - Inside
More

→
---
| | |
| --- | --- |
| | Интересное на CreaSpace |
| | |
| --- | --- |
| | Events |
Сегодня в эфире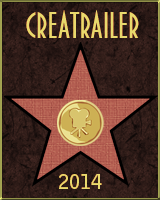 Trailer contest with no restrictions on sources!
| | |
| --- | --- |
| | Voting |
Проводить в начале года Level Up 2015?
| | |
| --- | --- |
| | Top 10 |
| | |
| --- | --- |
| | Recommended |
| | |
| --- | --- |
| | Users online |